Steven took this picture of me in my Blade
Which is FOR SALE!

6.


I took this one of Steven in his Sensor
Russ Gelfan's Incredible Rampart Video!
The overall theme here is hang gliding in the northwest; from Oregon to BC, mainly Washington. The numbers on some of the paragraphs correspond to the numbers on the map at the bottom of this page.
Each picture here is a thumbnail. Many thanks to my friend, Dave, who provided the space for the full size pictures on his web server at Indyweb! If you need a web host, this is the link.
For non-pilots here are some frequently-asked questions about hang gliding. If you'd like to become a pilot, try Flat Mountain, or Aerial Adventures.

TOO BAD we LOST our LZ!!! 6.


Darren in his new Stealth


Willy with a BUTT in his mouth!
These aren't photographs that would make the cover of a printed publication but they give an idea of what flying in the northwest is like.
If you're from somewhere besides the northwest US, you probably wouldn't want to come here. It rains all the time. (Except for when it's snowing like it's doing while I write this). The grid-lock is terrible and you can't find a place to camp. No hotel vacancies. Very uncomfortable.
Trying to decide which site to head for? Maybe this Northwest weather links page will help.
To see what kind of flights people have been having at these and other Northwest sites, see what flights have been logged on my log book page.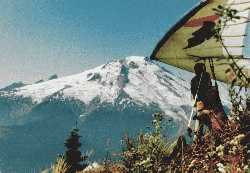 1. Starting in the north, this picture was taken on launch at Anderson Butte. This hill, located on the east side of Baker Lake in the center of the north Cascade mountains, provides the most spectacular views of any hang gliding site I've seen in my 18 years of flying. This picture shows Dan Harding poised, ready to launch his K2 with Mt. Baker standing majestically across the lake in the background. (309K)

---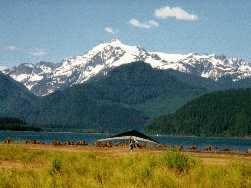 1. Flying Anderson is a rare treat because by the time the snow melts in the spring and the launch is accessible, the lake has filled and there is no place to land. Some years the snow melts early enough and/or the snow comes late enough that there is a few weeks when it can be flown. This view shows yours truly landing my Sport with Mt. Shuksan in the background. The view is looking north. Launch is to the east (right) and Mt. Baker (seen above and below) is to the west (left). The year this was taken there was not a lot of snow so there was almost a month in the spring when it could be flown. (220K)

---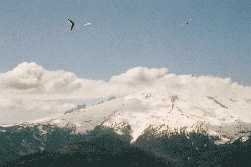 1. Here is a shot of me and my Sport at Anderson (honest, that one on the left is me) and a few others working the house thermal in front of launch with Mt. Baker once again in the background. I got to 6200' that day (not a great day but very good). (335K)

---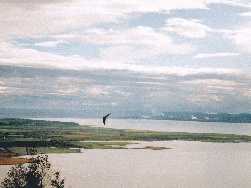 2. At about the same latitude and toward the west, on the shores of Puget Sound is Blanchard Hill. Launch here is about 1100' up from the water and the hill up behind is about another 1500'. This coastal site is situated so that it is good under many conditions; ridge, thermal, convergence and wave lift are all used here under greatly varying weather conditions. The last time I was there all I got was a sledder after waiting through horizontal snow, strong, gusty winds from the north, alternating to the west, then clearing and a warm sunny south breeze; all within about an hour and a half. When it turned south and started to clear, I began setting up my new Blade for my first flight in the year-old glider (that's why I was so patiently waiting). By the time I was set up it had turned SE and was cross/tail and only about 5-7mph. I bailed off the "cliff" launch in a lull and splashed down in the LZ about 3 min later. But when Blanchard's good, it's magical! (276K) Just ask my friend, Darren, seen here with Bellingham in the background. On the right, a good day at cloudbase!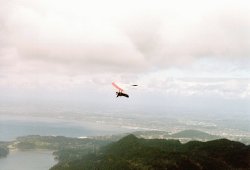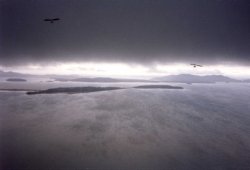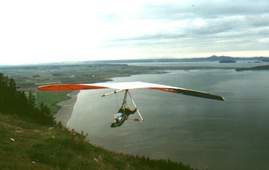 ---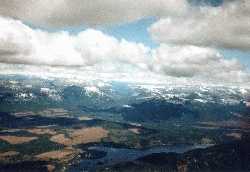 3. Next, about a half our south, is a view from nearly 7000' at Frailey Mt, just north of the small town of Arlington. This view is looking NE with the launch just out of the picture to the right on the ridge in the foreground at the bottom right of the picture. This day I flew nearly to Granite Falls and back, about a 20-mile round trip. Not spectacular numbers but very spectacular flying. I call it a "frailomatic" kind of day where cloudbase is almost automatic. On the return trip, nearing cloudbase, it began snowing about 150' below me. As I approached the cloud that was dumping, the snow got closer and closer until I was flying through it. Cool (in more ways than one)! (265K)
This man has had too much fun!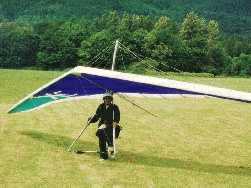 ---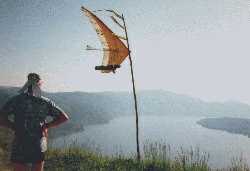 4. Considerably farther south, not far from Mt. Rainier and Mt. St. Helens, is Dog Mt. Dog is perhaps the most soarable site in Washington. It is situated in the center of a major valley that cuts through the Cascades. The air flows through the valley, across six miles of Riffe Lake reservoir and then pushes up the 1100' slope to launch. The result is air that is a pleasure to launch in and makes fly-by's like this a common occurrence. Not as common as they used to be, but that's another story. Here, the spastic moth flys by in his modified Sensor in smooth, soarable air that he has all to himself because everyone else has had their fill and gone and landed. The moth is typically the last to land. (187K)

---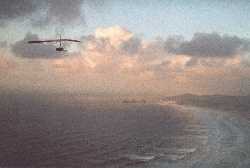 5. I took this one at the Oregon coast. Awesome no matter where you go. But you have to enjoy the beauty between showers. The salt eats your glider and the sand gets into everything. Bad place to go. (203K)

---
6. Ahhhh. "Boring" soaring over Puget Sound. "Do I HAVE to land?"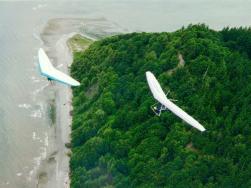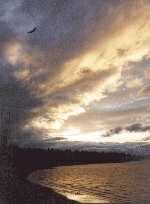 ---
7. Then there's the east side of the mountains. These pictures are of Chelan Butte, a very popular cross-country site. Situated at the eastern edge of the Cascade mountains, this site is the starting point for many 100+ mile flights. I'm a lightweight pilot; a desk jockey, and I made 50 miles in my Sport on a no-wind day! The lake and warm weather make the town of Chelan a popular recreational destination. Add the sky-out thermal flying and it makes for a nice spot to go have fun.
This first picture shows the Butte, looming over the town at the end of the lake, with the Columbia river gorge winding behind it. The first leg of the lake (about one quarter of it) is visible in this picture (be sure to scroll to see the whole shot). This day ended up being a bit over-developed and I landed when I saw a lightning bolt jump from one of the many cumulous clouds to the ground.
Here's one showing the top of the Butte with the Columbia in the background. Note the long shadows. Somethimes in the evening, like on this day, the cool air comes down the lake and crosses over the warm ground, then lifts up over the Butte to provide smooth glassoff conditions. It can get a little difficult to get down before dark!
---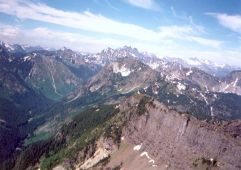 8. In the middle of the Cascade mountains is Rampart Ridge. Spectacular views! (73K)

---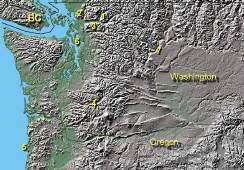 The numbers on this map are a little difficult to see. I didn't want to obscure any more of the details than I had to. This map was cropped from a map I obtained from HERE. (161K)

---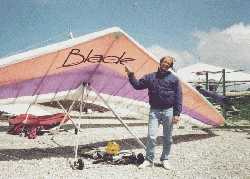 Here is one of me, Dave Duperon, getting ready to fly a rented Blade at Tegelberg, Germany. (177K) My wife, Ruth, took me there to show me her homeland. I liked the glider so well, I went and bought one. I've since gone topless with a Wills Wing Fusion. I"m not convinced topless is the way to go, or that the Fusion is anything special. But it's another step up. In my 15 years of flying, I've owned a Harrier, A Sport, the Blade, and a Fusion. Now the push is toward ridgid. Not sure I'll go that far....

---
6. Going back a few years, Dave Lindberg supplied these pictures of himself and three fellow pilots. They were taken at the old launch at Skatchet head at the south end of Whidbey Island in the heart of Puget Sound, probably prior to 1978. From the left, the pilots are Chuck Eldred, Steven Holte (deceased), Chris Hansen (deceased), and Dave Lindberg. The glider in the second picture is an SST. Chris Hansen is the pilot.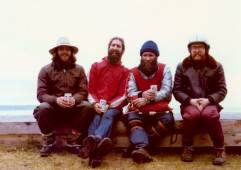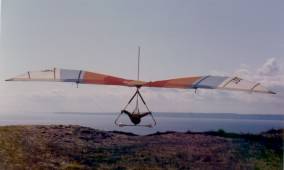 ---
That's it for now. As my photographic and scanning skills improve I'll be adding more.
---
Be sure to visit my other sites
I wrote a graphing program called GUIPlot that enables interactive plotting of numerical data from just about any kind of text file.

My Northwest Weather Links page helps me decide where (and if) I should go flying. Sometimes it keeps me at home when others, with less information (and more ambition), get great soaring flights! Sometimes it's the other way around...

The Northwest Logbook Page was started by Kevin Cosley. He set up a page and offered to manually add flights that people would e-mail to him. It was a great idea, but soon proved to be more work than was practical. I offered to automate if for him and, after I developed the scripts on my ISP's server, we found out that his ISP wouldn't allow user-written scripts. So I kept it and still maintain it. It's a great way for a computer geek like myself to learn Perl, CGI, etc.

Repairlinks.com was a brain child of my friend, Dave, and I. It was going to make us rich! The idea was to have this giant database of every repair service in the country that was based on zip codes. All a user would have to do is enter their zip code and a radius, then they could get a listing of all repair services in a specific category (like large appliances, motorcycles, TV's, etc) that were located in their area. Once we had thousands of searches per day, we could sell advertising to all those service people out there. The ads would also be based on zip code, so advertisers could target a local clientele and people actually searching for what they were selling, and not have to pay for ads being shown to people that were hundreds of miles away. Seemed like a great idea. So, I developed the site and then tried to figure out how to fill the database. I'm still trying to figure out how to fill the database...

When I'm not flying or developing programs at home, I work for Fluke, an electronic test equipment manufacturer in Everett, WA. I develop Windows programs that control test and manufacturing equipment, web pages that help us monitor our processes, Pascal programs that run laser resistor trimmers, etc, etc, etc...
---
Links To Other Hang Gliding Sites
Visit my friend Chris's site, C and S Engineering, for more pictures of hang gliding, rock climbing, custom gear, a little political commentary, and a unique, interesting, site!
For tons-O-stuff on hang gliding visit the Hang Gliding WWW Server.
A gateway to European hang gliding can be found at the Swiss site Hang Glide Air.
---

If you have comments or suggestions, let me know.
All of MY pictures that appear on this page may be freely used for any purpose except monetary gain. Use of any pictures I have specified as being supplied by someone else may not be used for ANY purpose without permission.